Some of the links below are affiliate links, so we may receive a commission, at no cost to you, if you make a purchase through a link. Check our 
disclaimer
for more info. (* = affiliate link)
Bullet journaling is all about your personal preference. That applies to the way you organize your entries down to the choice of materials you use. Beginner bullet journal-ers and pros alike need to make sure their supplies are fulfilling their needs. And they need to put a particular effort in selecting the best bullet journal markers for their specific needs.
Some of the best journal markers include the Sakura Pigma Pen Set, the Zebra Midline Double Ended Highlighters and the iBayam Journal Planner Pens. You will first need to know which qualities (waterproof, fast-drying, fade-resistant, etc.) you are looking for to make the best decision that suits your specific needs.
If you're looking for the perfect pen or marker for your bullet journal, then keep reading this article to find some of the best markers there are to date!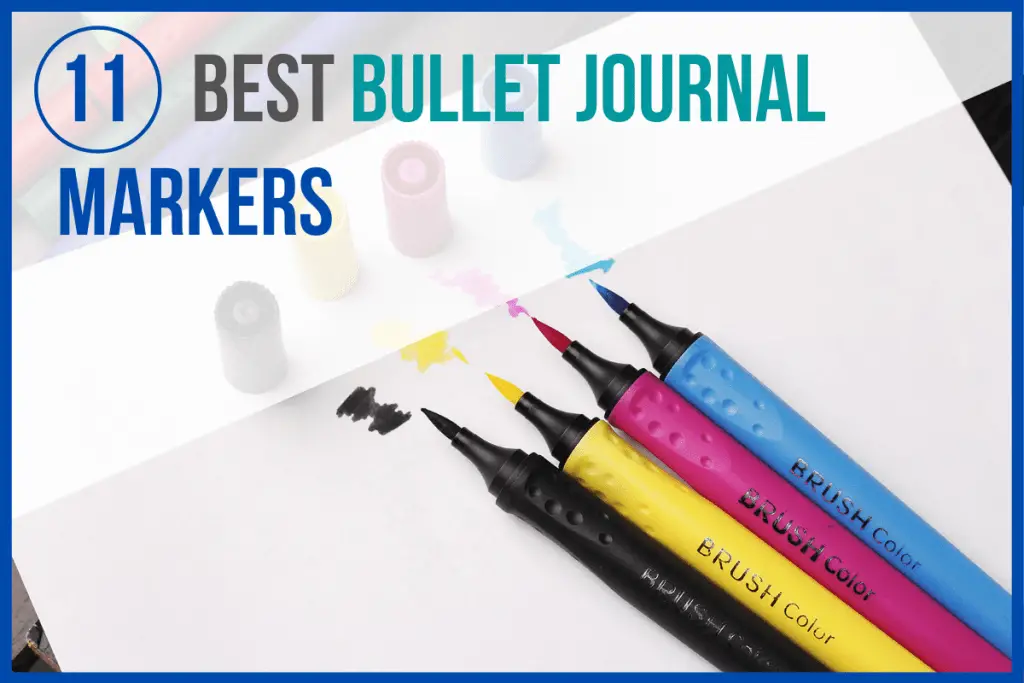 The Sakura Pigma pen set is an excellent choice in medium for both beginners and experts alike. This brand of pen is often used by professional comic artists along with other art pros! Some of the excellent qualities about these pens are its beautiful crisp lines that allow for even and smooth distribution of ink. The ink is entirely waterproof, fade-resistant, chemical resistant, pH neutral, and resists smearing or bleeding through most papers, making it ideal for bullet journaling. 
The Zebra Midline Highlighters are some of the best highlighters on the market. They come in packs ranging from 5 highlighters to 25 highlighters! They have a fine-tipped, broad tipped, and a dual-tipped option, making it the perfect highlighter for any bullet journaling need you may come in contact with. This soft color highlighter set has completely waterproof, fast-drying ink. These lightweight markers are easy to use without bleeding through or smearing as well, making them an excellent option for bullet journalers. 
These pens are perfect for someone looking for bright colors! Unlike the mildliners in the previous section, these pens provide a much brighter pop of color to any bullet journal entry. These are fine-tipped pens that allow for easy and smooth writing or drawing. Additionally, iBayam pens have water-based ink, making them nontoxic with minimal bleed through. Another really cool feature of these pens is the included vinyl carrying case that comes with them, all for $11.99!
Paper Mate is one of the most well known and loved brands of office supplies on the market. It comes as no surprise that their pens make this list. These felt tip pens are .7mm in width and come in a pack of 16. These bold colors can add some variety to your bullet journal entries, all while resisting smears and fading. Paper Mate also uses water-based ink, allowing for minimal bleed through on to the back of your pages, making this another excellent option for bullet journalists. 
These gel highlighters are a total game-changer. The varying colors of gel allow for absolutely no bleed through, making this the ideal marker for even the thinnest of journal pages. It is one of the most highly rated bullet journal pans on Amazon. The gel design also prevents smudging or smearing while still allowing bright, beautiful colors. Get a pack of 8 for only $6!
Marker Circuit makes possibly one of the best bullet journaling pens of all time. Though on the pricier side, these are the perfect utensils for the most experienced bullet journaler. These pens are used by professional artists and amateurs alike. They come in a neat package and are fast drying and resistant to smudges, and they also write evenly and don't leave behind any blotches. These pens come in a pack of 50, so once you get yours, you'll be set for a while!
This six-color set is a game-changer in the bullet journaling world. These water-based highlighters come in peach, lilac, blush, soft yellow, mint, and turquoise. The pastel colors are resistant to smearing and won't dry out if the caps are left off accidentally. The 2mm to 5mm tip is resistant to fraying and will provide long hours of bullet journalling without getting worn out. 
This is one of the widest arrays of colors to be found all in one pen set. With a set this large, you will always be sure to have the color and shade you're after to make your bullet journal completely your own. Tebik uses water-based ink to ensure safety for all ages using this product. Water-based ink also ensures a fast drying time for minimal smearing and smudging. 
These pens write smoothly and don't dry out, making it the perfect pen for bullet journaling. Plus, the .28mm tip is perfect for making super accurate and precise markings. With the purchase of this pen set, five complimentary stencils will be included as well, so you'll be able to tackle all your bullet journal needs.
These markers are an excellent choice for the bullet journal if you want to give it an artistic touch. These markers come in a pack of 40 or a pack of 80, meaning the number of shades and colors offered is huge. These dual-tipped markers are perfect for highlighting words or filling in large spaces or for making precise markings and straight lines. 
These permanent markers are professional quality at low prices. The rich colors go on seamlessly without smudging or blotching. Their ink mixture is completely alcohol-based and acid-free. They come in a triangular, oval shape, making them easier to hold than even a pencil is, and also prevents your pens from rolling away. These markers come with a 100% lifetime satisfaction guarantee or your money back.
These muted toned highlighters are perfect for the minimalist bullet journal. The dual tip option allows for fine lines with the .7mm side or flawless highlighting with the 4mm side. The colors included in this set are none like any colors you've seen before. They contain beautiful and unique tones perfect for anyone who keeps a journal or any paper records of sorts. 
They come in a set of 15. These highlighters are also water-based and allow for smooth writing without blotches. The water-based ink is very useful because of its fast dry time and resistance to smears. 
These water-based ink highlighters are an excellent choice for bullet journals. These highlighters come in one to four packs of 6. The matte finish makes for beautiful journal entries. There is maximizing cap-off time without the markers drying out. The markers are non-slip and fast drying. These markers come in 8 fluorescent colors and six pastel colors, allowing a lot of room for creativity and variation in your bullet journal. 
Conclusion
As you can see, there are plenty of different options for bullet journal markers. These are just a small portion of all the options available to the aspiring bullet journaler. Most of the products listed here were pulled from Amazon. The options that may be present in craft stores and office supply stores are even more extensive and just as impressive.
So the next time you are looking for a new medium for your bullet journal, defer back to this list to have a guide of just a few options there are. From there, you can find whatever works best for you. 
Sources