HowToMakeItHappen.com went live in September 2019. It started as an experiment, and there's been a lot of trial and error in the process. There are a few things I've learned since I started this project. So much so, that I felt confident enough to start a second website with my mother.
Of course, I've looked for online courses and resources to help me understand the blogging world and how to earn a side-income from it. I've bought a few (way too expensive) courses, and have been mostly disappointed.
But there's one online course that really, really delivered on its promises.
I want to be straight up honest here: I do earn a commission, at no extra cost to you, if you purchase the program through my links. I believe, however, that it is well worth the money if you're serious about starting a niche website business.
That's why I am ONLY recommending this ONE online course so far. I ONLY want to recommend products that have proven to deliver value for me and have a high quality-price ratio.
The Problem with Most Online Courses About Earning Money Online
1. They Are Often Outdated
The reason why I have often been disappointed is that many courses about earning money online are outdated. Typically, the author of the course may have experienced some success with his or her tricks and tips a few months or years ago. But since then, Google, YouTube, Pinterest, Instagram… have all implemented many algorithm updates that may have completely changed the game.
Of course, not everything will be outdated by then, but it will most likely be up to you to find out what still works and what doesn't.
There are only very few courses that do the proper work of staying up-to-date constantly.
2. They Focus on Shortcuts and Forget about the Essentials
You've probably seen many courses, videos, or posts promising you to earn tons of money very quickly. Well, most of the time that is just a straight out lie.
Sometimes, someone can get lucky by discovering a simple trick early on in order to gain more traffic or sell something better. But very soon, the masses use this trick and it's not so easy anymore…
Plus, very often, some of those techniques are more complex than they seem, and you're in fact hearing advice that SEEMS simple but requires some talent and fine-tuning only a person with years of experience in the field has…
And, of course, some of them are just scams OR morally questionable techniques…
1. The Content is Always Up-To-Date
One thing that I love about the Income School team is that they are committed to staying up-to-date.
That's why they decided to sell all of their niche websites in early 2020. Those websites were all quite successful – and continued to perform extremely well after they've been sold. But the Income School team decided that, in order to TRULY stay up-to-date with Google SEO, they had to constantly do the entire work again, from scratch!
So, instead of maintaining older websites that were already successful, they decided to start brand new niche websites in order to see whether what they are teaching in Project 24* is still valid.
In the meantime, they do the same with YouTube Channels and have a few experiments running from scratch to see what works and what doesn't.
2. The Goals Are Realistic
Income School is not promising you to get rich in 3 months. Instead, they make it clear that Google SEO takes time, and your articles will not be driving traffic from day 1!
You need to be patient, have faith in the process, and slowly see your traffic and income increase…
They estimate that, on average, it will take you about 24 months to be able to earn a full-time income* from your niche website if you follow their advice and step-by-step course.
So far, my numbers all confirm their average predictions, and the 24-month timeline* seems extremely realistic to me. I will report my results below and update them regularly.
3. The Team Keeps Adding New Courses and Resources to the Program
One thing that really surprised me is the amount and quality of courses and resources the Income School team keeps adding to the package, at no extra cost.
Since I enrolled in spring 2019, they have been adding:
a short course on Pinterest with very interesting interviews
a full, 60-step course about YouTube
2 new updated courses about SEO optimization and strategy (very interesting!)
a WordPress Theme (Acabado)* which is optimized for speed and simple blogging design, that you can use at no additional costs for all of your websites if you are a member
a personal "my story" dashboard (brand new!) where you can enter your progress…
The team has been adding many more features; I am just listing the ones that were most relevant to me and that I've used so far (I can't always catch up with all the new material and features offered!).
Income School also organizes special events for its members, depending on the stage of their website. My dream is to be able to fly over one day and meet the team, personally (probably not happening soon due to COVID, but I keep my fingers crossed!).
I also found the Content Warrior Challenge, which happens every few months or so, to be a huge motivator to push content for a month.
4. An Amazing Community
In other courses, I've often found that the community was not as great as advertised. Very often, it's difficult to find the right information (especially in Facebook groups) and at some point, the course authors just seem to leave the community by itself, only reacting very slowly, if at all, to questions you may have.
At Income School, however, I regularly check the community forum and posts. First of all, Income School has its own community platform, and I find it very well organized by topic and questions.
Most importantly, the community is VERY ACTIVE! So far, I have found the following very useful:
tons of advice regarding website traffic and monetization.
a very responsive community: you usually get answers within a few hours, and can have them validated by the Income School team itself very quickly.
many motivating and encouraging community posts, to keep me going when my motivation is low.
a lot of top-quality services around blogging and YouTube. For instance, my mom & I have decided to invest some money into outsourcing some blog posts* in order to speed up the process for aginggreatly.com. We have found and used two companies from Project 24 members, which offer top quality posts at a good price with writers that have been trained to follow the Income School method. We couldn't be happier with the results!
What Will You Get If You Become A Project 24* Member?
You get instant access to 22 courses (as of October 2020):
60 Steps to a Successful Website: a step-by-step, easy-to-follow guide to building your first niche website over 60 days.
60 Steps to Success on Youtube: a step-by-step, easy-to-follow guide to starting your first YouTube channel over 60 days.
Picking Profitable Niches: find out what you should be looking for when picking a niche for your website.
Search Analysis: how to perform proper research in order to write articles that target the right topics and keywords.
Monetize with Ads: a quick guide on how to monetize your website with ads.
Monetize with Lead Generation
Monetize with Info-products: how to build your own informational products in order to maximize profits with your website.
Web Traffic Snowball
No Nonsense SEO: getting clear on what drives traffic, and what doesn't.
E-A-T for SEO: a Step by Step Guide for Online Credibility
Snippet Optimization: how to structure and write your articles in order to rank first on Google SEO.
The Battleship Method: optimizing traffic results by analyzing past performance on your articles…
Email Marketing 101
Protecting the Downside
Personal Branding
Video Editing with Final Cut Pro
Pinterest Results – How to Get Traffic
Mythbusting
Hire and Train Writers
Reviewing Your Sites
Improve and Speed Up your Writing
The Success Mindset
Other resources included in the membership are:
An optimized WordPress Theme (Acabado)* which normally costs $50 per year.
Exclusive P24 events.
Participation in the Content Warrior Challenges (to increase member motivation).
Access to the members-only online community, full of advice, resources, and tips and tricks.
Amazing members-only advantages, such as the ability to join the Ezoic Ad Network* right away (no need to reach 10,000 pageviews on your website, you can monetize with a professional ad network early on).
A "my story" area for you to track your progress and compare it to the Income School average results*. It will also help the Income School team better attend to your specific needs with events and content…
… and probably much more to come.
How Much Does Income School's Project 24* Membership Cost? Is it Worth the Money?
Income School's Project 24* membership will cost you about $449 (as of October 2020) in the first year and will be auto-renewed at $199 each successive year.
Is it worth it? Well, Income School's Project 24* is the only membership of the sort that I have decided to renew because I believe it is well worth the money!
For you to be able to decide for yourself, however, I will do my best to keep my websites' results and performance up-to-date down below. This way, you will be able to find out what my return on investment actually is, over time.
Everyone's budget and risk-propensity are different. That's why I'd rather show you the numbers and give you the information I have at hand so that you can make your own informed decision!
Also, I do want to emphasize that some niche websites will perform better than others. I've seen many numbers shared by other P24 members which strengthens my belief that the method, when applied properly, works wonders. But I don't have access to the proper average numbers of all members, so my view might be biased! I want to be 100% honest with you here!
Definitely. The step-by-step process over 60 days to build your website and/or YouTube channel and the support you receive from the community and team are tremendous, and they will get you through each step of the way… even if you are a total beginner (like I was!).
I started learning and trying to apply Income School's Project 24* method in spring 2019. Unfortunately, although I had a good feeling about the program and trusted that it would work, I still doubted my own ability to find a good niche, find the right keywords, and write posts that would be good enough to drive traffic.
So, I started looking into several other online courses, which all promised amazing results in no time and seemed easier to achieve (or they just made it look easier, maybe).
What happened?
I lost so much time. For instance, I spent a few months diving deep into Pinterest, only to see my efforts literally annihilated by a new, major update in early 2020.
Since then, I've seen the traffic of my first Project 24 Website increase, and realized I should have stuck to this first program all along!
But it's never too late.
The second website I've started with my mother, aginggreatly.com, strongly benefitted from all the lessons I learned. That's why we started off very strong and made sure to take advantage of our early motivation to put a lot of content on the website in the first 3 months.
The Results So Far
Enough words already! It's time to see the numbers…
I will start with aginggreatly.com's performance, as it was closer to Income School's Project 24*'s "best practices" which translates into better traffic earlier on…
AgingGreatly.Com
Here's aginggreatly.com's performance so far (as of October 2020).
Remember, we posted our first blog post on April 20th, 2020.
1. Traffic
Here is a snapshot of Google Analytics from August 1st to October 31st, 2020.

And here is a comparison of our performance compared to Income School's projected average 24-month timeline*.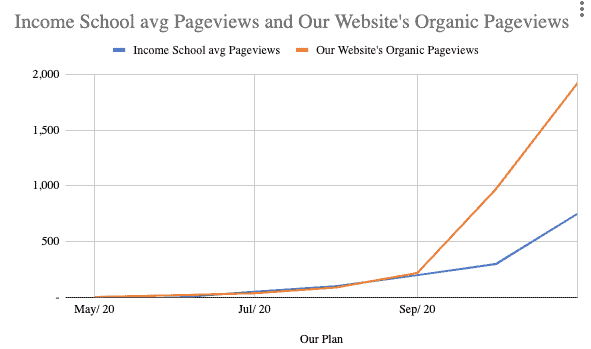 Just a quick note: you can see that our traffic made a jump compared to Income School's 24-month timeline*. My mother and I are thrilled!
2. Monetization
We started monetizing at the end of October 2020 and have earned our first $22 so far.
HowToMakeItHappen.Com
1. Traffic

As you can see, the organic traffic stagnated somewhat roughly from May to September 2020. That's mainly because I had not been writing articles at all between October 2019 and February 2020… And only had about 27 articles on the website!
Another "mistake" I did was to really not have a clear niche… I was so unsure about my capacity to drive traffic that I wrote about many different subjects…
So, in a way, I'm pretty happy with the traffic given all this!
I won't compare this website's traffic to best practices as it makes little sense… I'm wayyyyy behind in terms of quantity and quality of articles the 60-step course recommends!
However, I've been writing a few articles in October / November and some directly translated into traffic – that's so great to see!
2. Monetization
So far, I have not put much effort into monetization. I mainly earn a small revenue from ads (I joined the Ezoic Ad Network*) and from Amazon Affiliates.