Some of the links below are affiliate links, so we may receive a commission, at no cost to you, if you make a purchase through a link. Check our 
disclaimer
for more info. (* = affiliate link)
As of recently, bullet journaling has become all the rage when it comes to keeping organized in a creative way. Bullet journals are seen traditionally as dotted pages with designs and information on them, but there is more to them than that.
Bullet journals don't have to be dotted. Because bullet journals are a creative outlet as much as they are a tool for organization, there are many ways to format a bullet journal other than just using dotted pages.
If you want to learn more about bullet journaling and the many different ways you can format your bullet journal, read on!
Bullet Journaling for Beginners
Bullet journaling can be an overwhelming task when you are first starting out. Because bullet journals have become so popular in the media, it is easy to see examples of extremely precise and artistic bullet journals and compare our own.
However, bullet journaling doesn't have to be a chore or something to be discouraged by. As long as you have organizational goals set in place, there is no reason you shouldn't be able to have a successful bullet journal, even if you're not the most artistic. 
Starting a bullet journal will revolve around the goals you set.
Make a list of the things you would like to accomplish or goals you have. Then take this list and figure out how to turn them into bullet journal entries. 
You can be as creative or minimalist with these ideas as you want. You don't have to be an artist to make your bullet journal productive and important. The most important thing is that your bullet journal helps you accomplish your goals.
However, the reason you bullet journal as opposed to just regular journaling is for the aesthetic. To accomplish this, it simply takes patience and a steady hand. Take your time and make all your marking precise. It still does not take an artist to bullet journal successfully. A ruler is a super helpful tool to accomplish crisp and clean looking lines.
Whatever your bullet journal looks like, dotted or otherwise, if it helps you accomplish your goals and keep track of your needs, then it is a successful bullet journal.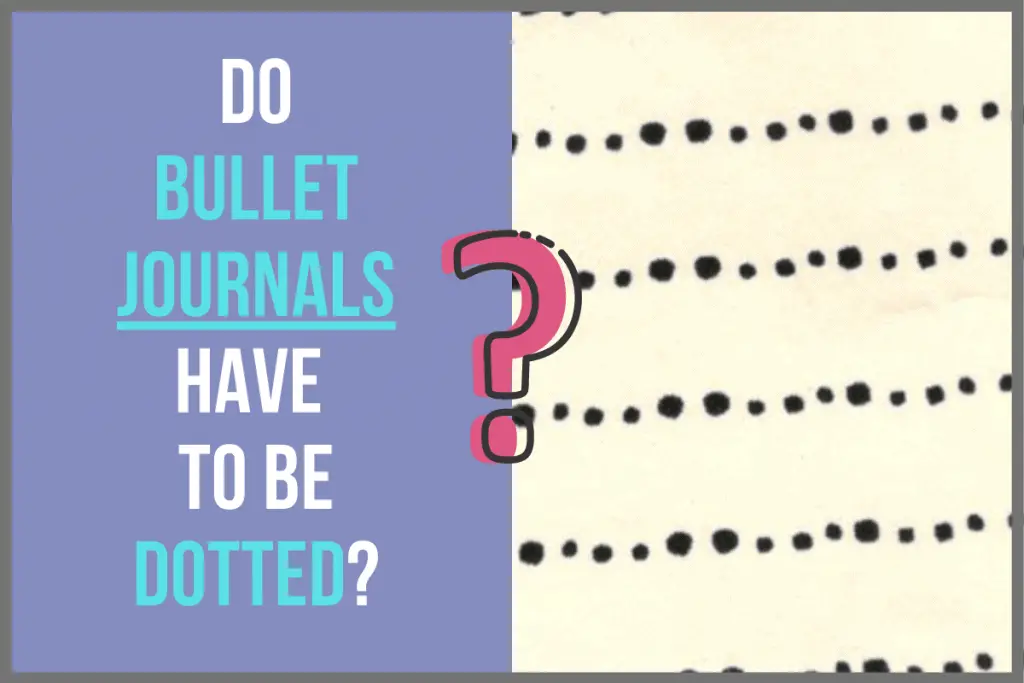 Dotted Page Bullet Journals
Though bullet journals don't have to have dotted pages, there are many that do. Some people prefer dotted pages to be able to make charts, lists, and columns as organized as possible. When using dotted paper, it is important to use a ruler to make the precise marking as you'd like. 
There are some entries that lend themselves to dotted paper. These include, but are not limited to:
Monthly/Weekly Calendars:

Bullet journals can provide an excellent space for you to keep track of all your upcoming events and assignments. These calendars can be drawn in a format that works best for you, which makes them more accessible than a traditional calendar you would buy from the store. 

Project Trackers:

This is an excellent way to keep track of the progress you are making on your goals. A great way of doing this is to draw a symbol that represents your goal and divide it into sections. Then every time you complete part of that goal, color in a section.

Booklist Ideas:

How many times has someone recommended a book to you, and you completely forget about it when you went to find a new book to read? Most likely, it's been several times. With a booklist, you can keep better track of the books you want to read.

Songlist Ideas:

Keep a list of your favorite songs for the week, month, or year. Then you can look back and remember what you were listening to during that period of time. You can apply this same idea to movies, books, restaurants, tv shows, and anything else you can think of. 
Typically, if you are an artist first and bullet journaler; consequently, the dotted page option may be the best for you. Here are just a few of the best-dotted bullet journals you can get:
Paperage Dotted Journal Bullet Notebook

: This hardcover notebook is a perfect dotted option. It comes in an array of bright colors to make sure your bullet journal is as creative as you are. This journal has 160 pages that are sturdy and avoid ink from bleeding through. 

Classic Hardcover Notebook, Dotted

: This is another super fun and creative looking notebook that satisfies your inner artist. This journal is 192 pages of journaling fun with a 180° lay flat option. 
Gridded Page Bullet Journals
Another great option for bullet journals is grid paper. Personally, this is my preferred method of bullet journaling. Gridded pages are great for making organized rows and columns, just like dotted pages are. However, a huge benefit with grids, as opposed to lines, is the fact that you don't need quite as steady of a hand to make the neat markings. 
Gridded bullet journals are excellent for keeping track of data. This is just one of the many reasons gridded journals are my favorite. Students can use gridded journals to organize data from labs, studies, and experiments they may be taking part in. Additionally, a few other great uses for gridded bullet journals are:
Graphs:

Graphs on gridded paper just scream satisfying. Grid paper provides an excellent axis and makes for neat and clean looking graphs.

Charts:

Charts, similar to graphs, make tracking information super efficient. Whether you plan on tracking your mood or the weather, or some other form of data, charts on grid paper make sure everything stays neat. 

Notes:

School notes look better on grid paper. This is especially true for math and science. Now instead of crooked charts and graphs in the midst of your notes, you can have neater notes for easier studying.
A few options for amazing grid paged bullet journals are:
Lined Page Bullet Journals
A final option for bullet journals is a lined option. Lined options are often overlooked because they are seen as just regular journals. However, lined bullet journals are great for those of us who aren't the most artistic. There are some great uses for lined bullet journals. Some are:
To-Do List: Bullet journal to-do lists are an interesting way to spice up regular boring to-do lists. Additionally, like a calendar, it is entirely personalizable to your specific needs.
Gratitude Log: Having a place to log all of the good things in your life is a great practice. Gratitude logs are a good way to do this. Keeping track of the things you are thankful for can help you to look at life with a more positive perspective.
Baby Name List:

Whether you're an expecting parent or an anxious young adult, planning for the future is always fun. Keeping a list of baby names handy can make that stage in your life a little less stressful.

 
Lined bullet journals are an excellent investment. Here are a few of the best to choose from:
Conclusion
No matter what your skill level in the arts, bullet journaling is an amazing way to be organized and creative at the same time. Regardless of whether your bullet journal has dots or not, it is successful based on how much you get out of it personally. If it is improving your organization and helping you achieve your goals, then congratulations! Your bullet journal is a success. 
Sources