Some of the links below are affiliate links, so we may receive a commission, at no cost to you, if you make a purchase through a link. Check our 
disclaimer
for more info. (* = affiliate link)
Habit journaling and the positive impact of this daily act are being praised more and more in recent years. But getting started can seem challenging at first. What exactly is a habit journal, you may be wondering? Well, a habit journal is a powerful tool you can incorporate into your daily life to help you achieve your goals.
How do you make and use a habit journal? Gather materials like pens, paper, notebooks, and washi tape and begin designing the pages of your habit journal. See our suggestions for these items and designs below. To use it, commit to setting time aside to set up your journal, then follow the guidelines you set for yourself. 
There are a number of ways you can get creative and make and personalize your habit journal to best fit your needs. The number one tip for using a habit journal is simply committing to journaling and setting aside time every day to write and record.
If habit journaling appeals to you and you're inclined to give it a try, keep reading to learn how you can make your habit journal, how to use a habit journal, the benefits of habit journaling and much more.
How to Make a Habit Journal
In order to make a habit journal, you will want to know the goals you are setting for yourself in it. So, let's go through some different options before diving into exactly what habit journal to make.
What Habits to Track
Start by brainstorming ideas of what habits you want to track. Depending on the habit, you may need to set up the journal a bit differently. Here are some ideas to consider:
Healthy Lifestyle
No coffee/sugar/soda/etc. Track how many days you go without consuming what you're trying to cut back on, also be aware of patterns. For instance, maybe you notice you have coffee without fail every Monday morning, then consider how you can break this habit.
Exercise. Maybe it's your goal to exercise 3 – 4 times a week. By habit journaling, you'll be able to track your progress and better plan your routine.
Did you cook at home? It's just so easy to grab a bite on your way home or have something delivered, but maybe your new year's resolution was to cook at home more. Track how often you do this, what nights are good for staying in, and what nights you'll treat yourself to dinner out.
Fruit/Vegetable servings. Track your daily intake, and make it a goal to increase how many fruits and vegetables you're consuming in a day. I really recommend eating at least 5 portions of veggies a day.
Did you take your vitamins? You won't have to ask yourself this ever again if vitamins are something you choose to track in your habit journal.
Walked X steps. Note the days you met your walking goal. And on the days you didn't, consider what you could do to achieve this goal.
Meditation. Habit journaling about meditation can help you track your progress, and identify a routine that will work best for your schedule.
Morning stretches. Track the mornings you did your morning stretches, and take note of the mornings you opted to hit the snooze button.
Bedtime. Maybe mornings have been extra hard for you lately. Make it a goal to be in bed by 9 PM. Track how often you do achieve this goal, and enjoy reaping the benefits of getting in all those hours of sleep.
Living a Balanced Life
No phone time. We could probably all spend a little less time on our phones, make it a goal to spend x amount of hours without your device.
Daily journaling. Journaling is highly beneficial for you but it can be a difficult groove to fall into. Tracking your progress can be a great way to create a positive habit loop.
Call a friend. Life is busy, track when you call loved ones and consider making it a goal to do this once or twice a week.
Did you work on a project or hobby? Sometimes it's hard to commit ourselves to our hobbies, even though we know it's a great outlet for us. Track how often you're making time to do the things you enjoy.
Did you draw/blog/do something creative? Habit journaling will help you set and achieve your goal of doing something creative daily, once a week, or however often you need this outlet.
Random acts of kindness. Set a goal of doing one random act of kindness a month or even a week, track your progress, and take pride in it.
Be grateful. Practicing daily gratitude makes people happier and healthier. Set a goal of setting aside a certain amount of time when it's best for you to express your gratitude about simple things in your life. Then, track how often you do this.
Used social media for no more than X hours a day. Set a goal of the maximum amount of time you want to spend on social media and track your progress.
Self-care. Are you setting aside time for yourself? Tracking the days you make time for you can be a great way to make sure you're taking care of yourself emotionally and physically.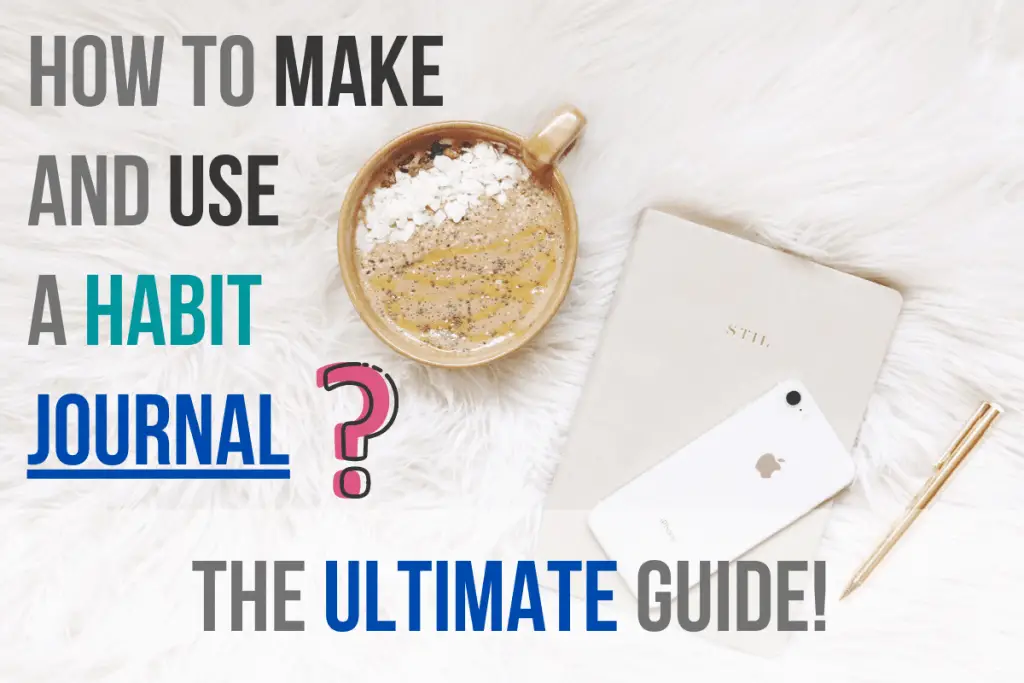 Doing What Needs To Be Done, Consistently
Reviewed lecture notes. Track how often you take the time to read through lecture notes.
Study time/complete homework. If you're working toward better grades, keeping track of how much time you set aside for studying and/or completing homework may be a good place to start to help you achieve your goals.
Went to class. Perhaps your goal is to simply go to class every day this semester. Habit journaling makes it easy to monitor your progress and achieve your goal.
Arrived at work on time. If you're notoriously late for everything, start with making it a goal to arrive at work on time, track your progress, and be on the lookout for patterns that arise.
Water consumption. Set a goal of how much water you'd like to be consuming and track your daily intake.
Did you water your plants? If you're notorious for killing plants, track when you water them. Then, enjoy the satisfaction of watching them grow.
Cleaned house. Take note of when you cleaned your house. And consider taking it a step further and breaking down what you did, for instance wiping down countertops, or vacuuming.
Savings trackers. There are a number of ways to track your savings and reach your savings goals. Journaling about your spending habits and goals will help you see the process in a playful way.
Vet visits. For the furry friend in your life, track vet visits and/or grooming appointments and never miss another one.
And you can find more healthy habit ideas to track in my other articles below…
Types of Habit Trackers
Next, decide what tracker is going to work best for you and the habits you wish to track. The best part about habit journaling is it's all personalized to your lifestyle, and there is no wrong way to go about it.
1. Yearly.
Pros: yearly journaling allows you to layout an entire year's worth of tracking. Yearly tracking is super encouraging when you can look back and see how far you've come.
Cons: as the year progresses, you may change what you want to track, or decide to no longer track certain things. Also, people tend to pack their year with a lot of unreasonable expectations. They tend to overestimate what they can do in a year, and quickly feel overwhelmed.
2. Monthly.
Pros: a monthly tracker is kind of the sweet spot for habit journaling as it's a shorter timespan, monthly tracking gives you just enough data to see what is working and what isn't.
3. Weely.
Pros: weekly habit journaling allows you to track smaller things, and allows you to make several changes as you go should you need to.
Cons: short time span.
4. Daily.
Pros: if you're tracking simple things such as water intake or whether or not you took your vitamins, this is the type of tracking for you.
Cons: not the greatest option if you're all about looking back on results and monitoring patterns.
A helpful tip if you're daily tracking: break your day up into morning/afternoon/evening to make completing tasks more manageable.
Page Layout
Now, it's time to get creative. Here are a few ideas about how you may want to design pages to track your habits.
1. Mini Illustration Habit Tracker.
Illustrations are a fun and super creative way to track your habits.
For example, perhaps your goal is to read 30 minutes every day. To track which days you read at least 30 minutes, first draw a stack of books and when you've completed your reading for the day, color in a book. At the end of the week, you'll be able to look back and see what days you achieved your goal, and if there were any days you did not achieve your goal and why.
2. Calendar Tracking.
Create a small calendar to track goals. For example, going to the gym. Under your habit draw a simple calendar, then mark off the days you go. Calendar tracking is a great and simple way to see patterns such as which days worked for you and which days did not, and that data allows you to come up with a routine that you'll be more apt to stick with.
Using a stamp calendar* can make this task less daunting.
3. Bullet or Horizontal Tracking.
This type of tracking is ideal when you have several habits you'd like to track for a longer period of time. This is also the most scannable format of habit journaling to track progress and scope out patterns. And it's my personal favorite type of habit journaling. That's probably because following my healthy and productive routine feels like accumulating one small win after another. It's satisfactory and checking off each habit gives me a feeling of success!
Here is an example of what bullet or horizontal tracking might look like:
| | | | | | | |
| --- | --- | --- | --- | --- | --- | --- |
| | 1 – Wed. | 2 – Thurs. | 3 – Fri. | 4 – Sat. | 5 – Sun. | 6 – Mon. |
| Vitamins | x | x | x | x | x | x |
| Bed by 8 PM | x | | x | | x | x |
| Blog | | x | | | | |
| Read 20 min. | x | x | x | x | x | |
Making Your Habit Journal
You have an idea of what you're hoping to track. Now, it's time to get creative. All you really need to make a habit journal is a notebook and some pens. But if you're looking to get extra fancy, you can incorporate some mixed media as well such as washi tape and stickers. Check out these materials as you get started making your habit journal.
Journals
Pros: 240 blank, unruled pages, integrated bookmark and an expandable inner pocket that is great for storing small items.
Cons: paper is pretty thin causing ink to bleed through occasionally.
Pros: ultra-thick white paper, strong binding, lay-flat design for smooth writing.
Cons: higher price point, must allow ink to dry to prevent smudging.
Pros: available in a variety of colors, vegan leather cover.
Cons: users have reported certain media bleeds through.
Pros: 249 pages, perforated pages, and blank table of contents.
Cons: works best with pencil only.
Pros: unruled pages, thick paper, durable binding.
Cons: smaller than the average journal (19cm x 13cm).
Pens
Pros: variety of vibrant colors, pens write smooth, fine tips.
Cons: a few users have reported the tips splitting.
Pros: great for calligraphy, non-bleeding, and fine tip.
Cons: minimal blending.
Pros: high pigment, no-fray felt tip.
Cons: low ink.
Pros: lightweight, micro-fine tip.
Cons: ink lasts a short time.
Pros: super-fine tip, dry safe.
Cons: set only includes 10 different colors.
Washi Tape
Washi tape is a great way to add color, texture or simply section off goals and/or tasks.
Pros: 16 designs, does not leave residue and ideal for journaling.
Cons: users have reported this brand is not as sticky as other brands.
Pros: bright colors, gentle adhesive, long-lasting.
Cons: waxy topcoat.
Pros: skinny rolls, great variety, stick well.
Cons: tape too transparent.
Stickers
Pros: large variety, high quality, adhere great.
Cons: these stickers have a gloss finish, so to write on them you'll need a permanent marker.
Pros: high-quality finish, durable, a page for each month.
Cons: not all adhere well.
Pros: large assortment, vibrant, and high quality.
Cons: higher price point than others.
Stencils
If you aren't super confident in your artistic ability, consider using stencils to format pages.
Pros: great variety, easy to use, ideal for journaling.
Cons: a little flimsy.
Pros: easy to use and great price point for quality.
Cons: stencils vary in thickness.
Using A Habit Journal
Habit journaling is very black and white, you either do it or you don't. And frankly, this can be frustrating for some.
Here are a few tips for using a habit journal and how to avoid becoming discouraged.
Useful Tips For Habit Journal Beginners
You are free to choose how much time you devote to habit journaling, which means your journal can be as simple or as complex and detailed as you like.
If the habits you're tracking are health-related, make a side-note of how you feel every day, regardless of what you're tracking specifically. Include things such as headaches and nausea.
Include an index, and number your pages. This will be super helpful the more habits you start tracking.
Choose a layout that will work for you, and don't be afraid to play around with it. Figuring out the format that will help you be the most successful in journaling will involve some trial and error. But it's worth it once you start achieving your goals.
Begin journaling by tracking on a smaller scale (weekly, for instance). Scope out patterns, then begin journaling on a larger scale if you choose to.
If you have extra pages in your journal that you just aren't sure what to do with, have fun with them. Make a note of loved one's birthdays, write down your favorite inspiring quotes, or just use these pages to doodle freely or test pen colors on.
If you're a perfectionist, consider using erasable pens*.
Invest in a whiteout pen or whiteout tape so you aren't focused on mistakes.
Get online and research habit journals, there are tons of Instagram accounts dedicated to nothing but habit journaling with lots of tips and tricks.
Starting Is All About Organization
Set realistic expectations. If you find yourself struggling with habit journaling, re-evaluate your goals. Ask yourself, what do I want this chart to look like next month?
Start small. Start your habit journaling journey by only tracking a few habits. As you get into the groove, slowly add more habits to track.
Keep your journal in the same place, and in an area that makes sense for you. For instance, maybe you like to journal right before bed, so it may be beneficial for you to keep your journaling supplies in or on your nightstand as a reminder.
Set aside a few minutes each day that you devote to journaling.
If you find yourself struggling to remember to record at a certain point during the day or forgetting what you did after a long day, carry your journal with you and record as you go about your day.
It may be beneficial to set aside a page in your journal for a monthly gratitude list. Every day, record one thing you're grateful for.
Remember To Be Good To Yourself
Don't get discouraged. This is easier said than done, but life gets busy. If you find yourself forgetting to track habits, consider taking a break, and setting a new date to start tracking again.
Don't get overwhelmed with trying to make every page of your habit journal Instagram-worthy. If doodling and calligraphy just aren't your thing, there is no shame in keeping your journal simple. There are also a ton of free PDF habit journal pages you can print off and fill out.
Record habits in a private or cozy area where there are minimal distractions. Take it a step further and create a relaxing routine around journaling by lighting a candle or turning on your favorite tunes.
Don't wallow in negativity. Whether you're feeling negative about your lack of journaling or not achieving your goals as quickly as you'd like, don't be too hard on yourself. Journaling and achieving goals both take time, so allow yourself the time it takes to be successful.
Remember that your journal is for your eyes only. It's okay if it's a little messy and unorganized.
Give yourself rest days. If you're tracking a habit such as working out or cutting out coffee, allow yourself a rest day or a day where you treat yourself to a coffee at your favorite coffee shop.
How Many Habits Should You Track?
The number of habits you choose to track is ultimately up to you. As a general rule, start small.
When you're just beginning to journal, tracking too many habits will end up being discouraging. Choose 2 – 5 small habits to begin with, and add more as you go. As you continue to track habits, you'll figure out how many you can maintain successfully.
Benefits of Habit Journaling
Aside from helping you achieve your goals, there are a lot of other benefits that come with habit journaling:
Habit journaling is a great mood booster as you reflect on your day and consider all the little things you truly accomplished.
Once you get in the groove of journaling, doing so gives you a feeling of accomplishment. For some, committing to journal is difficult. So be proud of yourself if you're taking the time to track your goals daily.
Journaling is calming as it forces you to turn off outside distractions and to focus on things that are important to you.
Habit journaling helps you focus on the small actions you take. Getting caught up in the big picture is easy, but it's the small steps that lead to the biggest achievements.
Enhances and encourages self-reflection. You may be one of those people who tend to focus on others, and not yourself. In that case, journaling will encourage you to self-reflect and dive into self-care.
Habit journaling is an excellent way to track progress. Goals are formatted to be scannable.
Evokes mindfulness.
Habit journaling encourages good habits.
Tracking habits helps you continue to make progress.
Journaling promotes and enhances creativity. Your journal is entirely up to you and can be as simple or elaborate as you wish. For those who enjoy having a creative outlet, journaling is a great way to hone in on and/or improve those skills.
Strengthens your self-discipline, which is the biggest predictor of academic and professional success.
A yearly/monthly/weekly habit tracker allows you to see everything at a glance.
Habit journaling is a daily opportunity to focus on the good and set new goals.
This type of journaling also allows you to see the positives as well as the negatives.
Why Use a Habit Journal?
A habit journal is a guided notebook that helps you track your daily habits. This type of journaling is a great way for you to set and reach goals. While there are many apps that can help you track your habits, journaling with pen and paper tends to hold people more accountable.
Habit journaling also allows you to personalize journal pages and serves as a creative outlet as well. Keeping a habit journal can ultimately help you achieve any goal you have whether it's working toward better grades, exercising more, or seeking more success at work.
Rather than writing down a task every day, habit journaling involves the task already being written down and simply logging whether you completed the task or not. Visuals are great motivation and encouragement to look at, they also allow you to see patterns in your habits, adjust accordingly, and help you stick to a routine.
It's important to note that a habit journal is not a magic solution to a problem, but rather a helpful tool that requires time and devotion to help you achieve your goals.
Bullet journals are great for people who like pen and paper lists, those who enjoy scrapbooking, calligraphy, and pretty pens, anyone who enjoys data, and those looking to be more organized. However, none of these things are required to begin habit journaling.
If you're interested and want to dive deeper into this topic, I invite you to read my other articles:
Final Thoughts
Habit journaling is a tool that you can incorporate into your daily life to help you record habits and achieve goals. Visuals are great motivation and a habit journal makes it super simple to monitor your progress and adjust routines as you need to.
Making a habit journal only requires two things: a notebook and some pens. How creative and fancy you get with it is completely up to you, though journaling can also act as a great creative outlet.
Through habit journaling, you can track virtually anything such as phone time, watering plants, exercising, and/or vet visits.
There are several different ways you may choose to go about tracking habits. You can do so yearly, monthly, weekly, or daily. There are also a number of ways to format page layouts. It will take a certain amount of trial and error before you figure out what works best for you, but it will be worth it once you start reaching your goals.
There are a lot of tips to keep in mind if you're new to journaling such as starting small, setting aside time to journal every day, and not allowing yourself to get overwhelmed or set unrealistic expectations.
There are also tons of benefits associated with journaling such as self-reflection, mindfulness, and encouraging good habits. Now that you know how to make a habit journal, how to use it, and all the benefits that come along with journaling, it's time to start achieving your goals!