Some of the links below are affiliate links, so we may receive a commission, at no cost to you, if you make a purchase through a link. Check our 
disclaimer
for more info. (* = affiliate link)
It's only mid-October but I am already thinking about and preparing for my New Year's Resolutions for 2020.
Last year around Christmas time, a friend told me that he was taking 10 days to REFLECT on what he had learned this past year, and what he was hoping to get out of the NEW YEAR.
It instantly felt like this was just right for me.
I LOVE Christmas time. But when jumping from one social activity to another, I tend to FORGET myself.
What do I WANT? Who do I want to BE? Where do I want to GO?
How To Make New Year's Resolutions Work
Although it's a known fact that people often fail to stick to their new year's resolution, they are still one of the best triggers to implement new habits. Yes, really! I am currently listening to Atomic Habits* by James Clear, in which he mentions that we are best able to change or introduce new habits on the first day of a week, a month, or year.
That's been very true for me. Like most of us, I used to make New Year's resolutions that would not hold for long.
But when I finally decided to downsize and simplify my list in 2017, it became almost a sure thing. Now, when I make a New Year's resolution, I stick to it for at least a couple of months, or even up to a year and a half.
How do I make it work?
Making maximum 3 New Year's Resolution.
Choosing to start very small and picking easy-to-implement habits. This means that I DO NOT pick habits that I have never even tried implementing! Usually, I pick habits that have proven greatly beneficial when I managed to hold them for a while, but for some reason can't seem to be doing consistently.
Selecting impactful habits. The small habits that you know will have a SNOWBALL effect on all other habits and really may change your life for the better.
Preparing in advance. It's important to take the time to stop and THINK about which habits are the best to focus on, at this stage of your life. This includes reviewing past resolutions and habits. What's been a good habit for you? Why are you not doing it consistently? Can you design your habit and daily routine in a way that will help you stick to it in 2020?

Reviewing My PAST New Year's Resolutions To Prepare For 2020
The habits I decided to implement in the past:
2017: QUITTING sugar, i.e. no more sweets or desserts.
That was a very important decision for me. If you'd want to know more about my LOVE-HATE relationship with sugar, I wrote this article about how sugar makes me sick, and another about 7 reasons why I decided to quit sugar.
My First Long-Lasting New Year's Resolution By Accident
Even though I call this one a New Year's resolution, it's more like a forced decision I had to take at the end of January 2017.
I had eaten SO MUCH CHOCOLATE over the holidays. And in January, I was still eating the sweet leftovers from my family and colleagues for 2-3 weeks.
Until, once again, I got really sick. That's when I decided that enough is enough. I decided to QUIT sweets and desserts.
I stuck to this RESOLUTION up until the end of February 2018. Wow. I stayed off my beloved sweets and desserts for OVER A YEAR! My health became much more stable, and I felt generally better altogether.
This was a great success. And that's how I realised and experienced for the first time that you'd better KEEP YOUR New Year's Resolution list very small and impactful for it to work.
What Made Me Break This Habit Over A Year Later?
So, what happened in February 2018, you may ask?
I made the mistake of thinking that I was completely done with sugar. That I was in control. And it really felt that way! It had been over a year without sweets and desserts, and I felt NO CRAVING or desire AT ALL to eat them.
So, for a friend's little farewell party, I decided that I would make and eat sweets again. JUST FOR THAT ONE DAY.
Oooooh boy. Little did I know. I opened the pandora box.
The farewell tea party was set for Sunday.
2 Days before, on Friday, I started brainstorming like crazy about ALL the DESSERTS I could be doing and, hence, eating on Sunday. I started realising that maybe I was not as immune as I thought but paid little attention.
The Day before, Saturday, we bought ingredients, already started baking and eating sweets. Ooops. This was another sign that I was NOT in control that should have struck me.
Sunday. So much BINGE eating sugar.
And the problem was that all these sugar leftovers surrounded me for two days. So, OF COURSE, I kept eating sugar.
It REALLY IS like a DRUG to me.
I'm still, to this day, trying to figure out whether I can implement a set of rules that would make it possible for me to have desserts on occasions.
But I've failed many times.
Right now, I've been off sugar COMPLETELY (living in Wildfit's Spring Season) for about 7 days. I am planning ahead and hoping to be able to make 1 or 2 exceptions next month for my birthday.
I'll let you know how that goes…
2018: STARTING every day with a minimum of 5 minutes of Yoga and Meditation each.
When I made my resolutions that year, I was still going strong on my "NO SUGAR" resolution and really motivated to pick THE BEST HABITS that would have a snowball effect on my life.
I went for:
MEDITATION. I had been trying to meditate consistently for a while. I knew about all the benefits of it and wanted to see how it would impact me to stick to it for at least a year.
YOGA. I had properly discovered yoga using an app called Asana Rebel just a few months earlier. This app was really good for me. It was geared towards the sporty side of yoga, leaving the more spiritual side of it aside, for which I was not ready yet.
I had been experimenting long enough with both habits in the past to know that it would be FEASIBLE for me to do AT LEAST 5 MINUTES of EACH every day. If possible, in the morning.
And it worked!
Did I stick with MEDITATION?
I kept my MORNING MEDITATION PRACTICE from January 1st, 2018 to about July 2019. That's 18 MONTHS! This summer, however, I did a bit too much jumping around and travelling, and lost my habit for about 2-3 months. But I'm proud to say that I have started reimplementing it just a few days ago.
Did I keep on doing YOGA?
I stuck to my 5 min+ YOGA morning routine until early 2019, which is also over 1 YEAR.
However, in January 2019, I started experimenting with a 3-month program from Mindvalley called The Longevity Blueprint. I started packing my morning routine with elements of this program, such as a 20-30 min. fasted walk, HIIT etc.
Mid-February I got sick again. And I'd like to share as a side-note that it was NOT a COINCIDENCE that this date corresponded with the reintroduction of SUGAR. I really encourage you to read my other article about this.
I had to stop doing sports for about 3 weeks. And when I could finally start exercising again, I had lost BOTH the newly trained habits from the Longevity Blueprint (that were most probably too fresh!) AND my daily morning Yoga practice habit.
I'm now slowly working my way to building up healthy exercising habits again. But I'm taking my time to experiment and make the NEW YEAR'S RESOLUTIONS that will WORK BEST for me in 2020.
2019: QUITTING sugar again and implementing what I like to call "meditative eating". No videos or excel after 7 p.m. and no electronics (except for my Kindle) after 9 p.m.
NO SUGAR + MEDITATIVE EATING: did it work?
In January 2019, I quit sweets and desserts again completely. But I needed to go a few steps further with my eating habits. My ADDICTION to sweets had translated into occasionally binging on PASTA, BREAD, FRUITS or anything that I had NOT included in my "sweets and desserts" category.
I did not really know where to start. So, I decided to try "meditative eating". I believe I really was on to something with this.
A New Discovery Shaking My Habits Momentarily: Wildfit
But in February 2019, I did even better. I decided to dive into the Wildfit 90-Day Challenge. I've written an honest review about it here in case you want to know more about it.
For 3 months, I spent a lot of time and energy into this Wildfit program. I consciously decided to focus on this to the detriment of my new year's resolutions concerning sugar and meditative eating.
And it paid off! I've revolutionised my diet and discovered a powerful TOOL to improve my life, regain energy and stay healthy. In the end, it happens to INCLUDE my 2 new year's resolutions anyway.
Once again, however, TRAVELS and UNCLEAR RULES have caused me to reintroduce sweets and other elements this summer. But the good thing is that I ALWAYS COME BACK to the Wildfit diet in between excesses.
Thinking About The Best New Year's Resolution 2020 For A Healthy Eating Habit
It makes me feel so good that I am thinking about making it one of my new year's resolutions for 2020. But I am taking my time to think about it because going Wildfit COMPLETELY for a year is a major undertaking.
Instead, I want to reflect on what makes the most sense and what will be really FEASIBLE for me. For instance, I am considering implementing SOME FLEXIBILITY, with a set of rules such as:
Stay on the Wildfit diet BY DEFAULT in 2020.
Make occasional exceptions for elements that still appeal to me. Those are:

coffee,
alcohol (especially wine),
sugar (especially sweets and desserts).

Decide IN ADVANCE about your exact PLAN and RULES for the next month. For instance, this November I will be travelling to Brazil for 3-4 weeks to visit a good old friend of mine. I want to stay Wildfit but also to ENJOY my stay there. I've thought about my set of rules and it could maybe include the following:

I will be able to drink wine and eat dessert on my birthday next month.
I will allow myself another "free pass" day in November, to be able to try out a friend's delicious desserts there (she's a professional confectioner!).
If the group of friends goes to restaurants or cafés, I will make an effort to choose the "Wildfit-est" meals and options available, which can still satisfy my appetite and my desire for good-tasting food.
Whenever I can, I will cook myself!
As you can see, it takes me time, reflection and trial and error to be able to develop proper, long-lasting habits… But I am getting better and better at it and hope for my 2020 resolutions to be even more powerful than the previous ones.
How about the two other habits: NO VIDEOS OR EXCEL after 7 p.m. and NO ELECTRONICS after 9 p.m.?
The first observation you should have made when you read my 2019 New Year's Resolutions is:
"Wow, aren't those more like 3 or 4 habits"?
Exactly. I believe I tried to tackle too many new habits in 2019. But that's really okay, too. You've gotta TRY and see what works or not.
It was really clear to me that MY ABSOLUTE PRIORITY was a bigger improvement in my DIET. I was accumulating health issues related to unhealthy food and wanted to LEAP FORWARD in that field.
But I still went for that little EXTRA experiment related to ELECTRONICS.
What Was The Intention Behind Those New Year's Resolutions?
My actual HIDDEN INTENTION was to IMPROVE MY SLEEP.
I had noticed that I often got stuck on my computer for hours and hours in the evening or at night. I did not understand how I could "just want to check out something" at 8 p.m. and end up WONDERING where TIME has gone around midnight.
In order not to be too extreme, I decided to IDENTIFY the REAL TROUBLEMAKERS:
YouTube or Netflix videos. That's a "no brainer". These are truly addictive.
Excel! Yup, I know, you would not have seen that one coming, right? Well, the fact is, I LOVE numbers! I love to check my budget, run the numbers, make projections and analyse data for my starting business. Once I get started in an excel table, I can go on for 1-2 hours easily. But IT'S NOT PRODUCTIVE AT ALL. I could be doing ACTUAL WORK or LEISURE activities in the meantime.
When I started cutting off these BAD HABITS from 8 p.m., it indeed freed up a lot of time for MORE important things. Cutting all electronics at 10 p.m. lead me to read more and sleep better.
I managed to keep these habits for a few months. They include really good elements, but I have yet to think about whether and how I might want to implement them again with my 2020 New Year's resolutions.
Simple Healthy Habit Ideas For Your 2020 New Year's Resolution
As you have read so far, I have already decided upon certain habits that I want to keep working on in order to CONSOLIDATE what I've tried the past years. But I also LOVE to take a STEP BACK and LIST all the habit ideas that I think would be worthwhile considering in order to live HEALTHIER in 2020.
Knowing that I can only take ONE STEP AT A TIME, I like to write down great ROUTINE IDEAS or HABITS in my notes for future consideration.
I am also of the opinion that it is TOTALLY NORMAL for your ROUTINE and HABITS to change depending on which phase of your life and what projects you are currently involved in. That's why I always like to have a fresh look at my routine to see whether I should adjust it.
Here is my FULL list of SIMPLE HEALTHY HABIT IDEAS FOR Your New Year's Resolution 2020:
HEALTHY
FOOD

HABITS FOR 2020

Note: this list is only based on my readings and personal experience. Make sure you seek professional advice before undertaking changes that may affect your health.
1. Drink enough water all day long.
We often forget how essential water is for us. It's not only good for our cells and body generally. Drinking enough water all day long will make sure you eat less. Oftentimes we get food cravings because our body is dehydrated. Try it out!
A little tip: try to drink in between meals, but not while you are eating. This will make your digestive system's life easier…
2. Eat at least 500 grams of vegetables per day. If possible, go up to 1 kg per day.
I stumbled upon this rule for the first time when reading a summary of Dr Fuhrman's book Eat to Live: The Amazing Nutrient-Rich Program for Fast and Sustained Weight Loss* on Blinkist. If I am not mistaken, he was recommending eating about 500 grams of raw and 500 grams of cooked vegetables every day.
Since then, I have gone through the Wildfit 90-Day Challenge and can only vouch for this rule. Vegetables should be the basis of your diet. You should eat A LOT of them.
And don't forget the salads and leafy greens… They turned out to be one of my miracle foods, helping me process all my meals better!
3. Do intermittent fasting every day or fast for one day per week.
According to research, fasting appears to bear multiple benefits for our health. If you are going to go for intermittent fasting, the best is probably to do it progressively. Your body adapts quickly, but the power of habits and hunger will surely strike for the first few days when trying to implement intermittent fasting.
At some point, I also had introduced one fast for 24 hours+ in a row per week. Mondays were perfect for this, as the fast helped me reset from the weekend excesses. The first 2-3 times were difficult, but after that, it became really easy.
4. Quit Sugar.
I have mentioned this one several times before. It's really important and central for me. I've always had a sweet tooth. And about 3 years ago, it would have been impossible to imagine living a life ENTIRELY WITHOUT SUGAR.
But I am getting closer to it and it's not bugging me anymore. Sugar is robbing me out of my health, my energy and my well-being.
A little tip: If you are going to tackle this one, and have no previous experience trying to cut out sugar, I recommend you be very precise and not too ambitious as to the list of sugar foods you want to quit.
For instance, I had decided to quit sweets and desserts. This means that hidden refined or chemical sugar which was added to the main dish was still okay (even though I would never do that). BUT at some point, I started craving my boyfriend's muesli cereals a little too much. Turns out it was full of sugar, and NOT ON MY LIST of foods to ban. My sugar monster had found a great loophole to substitute sweets and desserts!
5. Practice meditative drinking and eating all day long.
Try to savour the moment. If you enjoy every sip of your beverage or bite of your food, you will likely improve your diet and eat less. I like to call this "meditative eating" and I think it is a central element if you have bad dietary habits and want to change them for the better.
HEALTHY
FITNESS

HABITS FOR 2020
6. Go for a 20-30 min. fasted walk in the morning before breakfast.
No need to run a full marathon to get back in shape and stay healthy. A 20 to 30-minute walk is a great physical activity to start your day! Additionally, moving before you have eaten a bite will stimulate your metabolism.
Careful of course for those who really need to eat first thing in the morning. Be sure to have something before you go for your morning walk.
7. Walk for at least 10,000 steps per day.
Though most of you should know that it is recommended to walk at least 10,000 steps a day, I'm sure it's still a challenge to some of you. 10,000 steps for me are equivalent to about 1,5 hours walking.
I find that it helps a lot to track your daily, weekly and monthly progress. I simply use my smartphone for this.
Cutting the big bunch into smaller walks also makes it easier: how about 3 half-hour walks?
8. Do 5 min.+ of yoga every day.
It sounds ridiculous to even get started with yoga for only 5 minutes, right? That's what I thought but then I went for it.
The 5 minutes quickly extended to 10, 15, sometimes 20 minutes per day. My posture became better, I felt more robust and calm.
This small routine is one of my top picks and definitely a strong recommendation for your 2020 New Year's resolutions.
9. Run 2 x 20-30 minutes per week.
I used to be an all-or-nothing kind of person. I would tell myself – "Just 2 x 20 minutes running per week? That's as good as nothing!"
Turns out that this may actually be better than running 1 hour per day, every day (yep, that's what I was doing).
Don't forget that your body needs recovery time. 2 x 20 minutes of running per week can have a tremendous positive impact on your health.
10. Take a hot-cold shower in the morning.
That's a tough one. But it works miracles to start a great day and stimulate your metabolism.
Best is to alternate between hot and cold shower for about 5 minutes. Go for 10 seconds of warm water, then 20 seconds of cold water and repeat for 5 minutes.
You don't have to start with extremes. In the beginning, I was simply decreasing the temperature of the shower for a bit. It took me a few days until it was no trouble at all to shower with the coldest water possible for 20 seconds in a row.
11. Do a short 4 min. Tabata set of exercise in the morning.
A Tabata set is an alternation between high-intensity exercise (20 seconds) and rest (10 seconds) for about 4 minutes.
You can use whatever type of physical movement to perform this: push-ups, running, jumping jack… Make sure you choose an activity that you can do without causing yourself an injury, but that will also bring your heart rate up.
12. Do 2 x 20-30 of muscle-building exercise per week.
Though I managed to keep a very consistent daily endurance routine for years, I've never been that great with muscle-building exercises over the long-term. I reckon this is great mistake.
The ONE TIME during my studies when I had managed to keep a small muscle-building routine for 5 months, I became super fit! And 2 x 20 minutes per week were enough.
Though I am currently focusing first and foremost on improving my diet, I would love to reach the point when I can also start introducing this muscle-building routine again.
13. Get up early.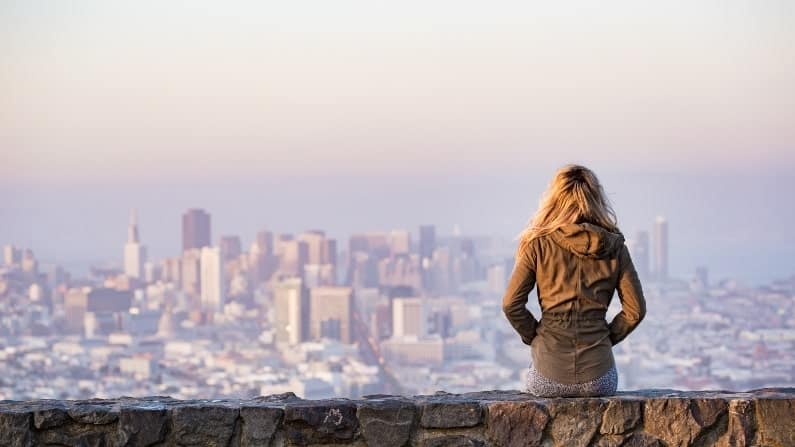 Getting up and starting my day early works miracles for me. But I also know of people who are night owls. What about you? Have you tried it out? What were the pros and cons?
What helps me a lot to actually get up around 6 a.m. is excitement. Usually, the following can cause this excitement:
I want to get started on my project and make progress!
Birds are singing outside. That's one of my favourites. I get so happy that I literally cannot sleep anymore.
I am listening to music that really makes me want to dance and jump around.
The sun is shining outside.
If waking up early is still HARDCORE for you, maybe you should listen to Mel Robbins' audiobook, The 5 Second Rule: Transform your Life, Work, and Confidence with Everyday Courage*.
I've shared my key learnings from this audiobook in my list of top 6 audiobooks I would recommend for starting entrepreneurs to stay on track.
HEALTHY
MIND AND BRAIN

 HABITS FOR 2020
14. Try to remember your dreams and write them down when you wake up.
This may seem awkward, but it is a great exercise for your brain to try and remember your dreams. Your brain is still working at night. Sometimes it is even resolving issues and solving problems.
Write down your dreams right away when waking up. It will be difficult at first, but you will get better over time.
15. Do 5 min.+ of meditation every day.
This one is ESSENTIAL to me. Luckily, there are many types of meditation and you can vary the pleasure depending on your current needs and wants.
To list just a few, I would recommend you try out the following:
Mindfulness,
Visualisation,
Law of Attraction,
Gratefulness,
Love and Compassion,
Forgiveness,
Ho'oponono.
I most recommend integrating those 5 minutes of meditation in your morning routine. It will be easier to practice and you will be less likely to skip it. BUT any time of the day will do. The most important is to practice daily.
If you haven't integrated this habit into your routine yet, I would recommend putting it at the top of you 2020 New Year's resolutions.
16. Practice Self-Authoring in the morning.
I first heard about the concept of self-authoring from Professor Dr Jordan B. Peterson's talks. Self-authoring is the practice of writing about yourself in the past, present and future.
According to Prof. Dr Peterson's research, "People who spend time writing carefully about themselves become happier, less anxious and depressed and physically healthier".
That's plenty of good reasons to start self-authoring in 2020.
17. Read 15 min.+ every day.
I believe reading a book or articles ON PURPOSE and consciously (not because you are forced to by, say, spams or viral news) is a stimulating exercise we should practice regularly.
15 minutes right before sleeping can be a great way to come down. Make sure whatever you are reading is not too exciting though, or this will keep you awake longer than it should.
18. Listen to an audiobook 15 min.+ every day.
I know that this sounds very similar to the previous habit idea. But, in my opinion, reading and listening are two very different exercises for your brain and should be treated separately.
I love to listen to audiobooks when going for a walk. I make sure that I always have several books to pick from depending on my mood of the day. If you don't know where to start, here are my top 6 audiobooks for starting entrepreneurs and best 7 audiobooks about personal growth and spirituality. Have fun listening!
19. Write down 3 things you are grateful for before going to sleep.
Gratefulness is powerful. It will help you improve both your mental and physical health. You only need to practice it once per day.
A good way to do this is to simply write down 3 things you are grateful for before going to sleep.
But I also often just meditate about it, first thing in the morning.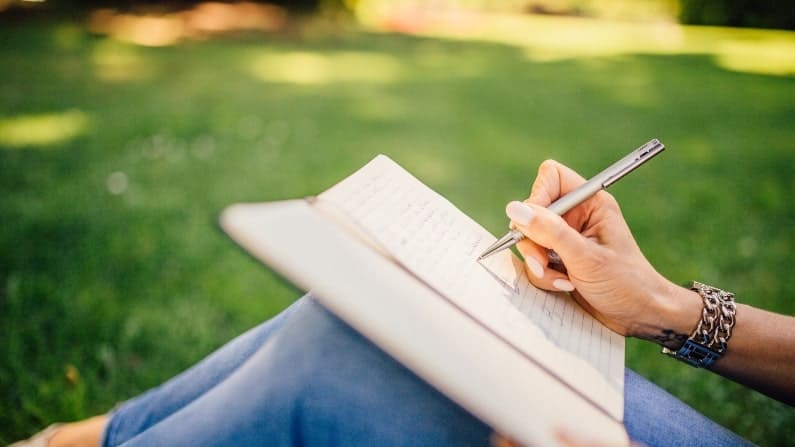 20. Send an email to someone to express gratitude once per day or per week.
If you are ready to go a step further, 2020 could be the year when you start spreading gratefulness all around you.
It's already great to be grateful every day. It's even better to actually express your gratitude to a different person every week or even every day.
21. Cut electronics after 9 p.m.
I have talked about this habit earlier in this post. It is definitely a good habit to improve your sleep and free up your time for INTENTIONAL activities (which are not triggered by the "attention industry").
I also find it still quite tough to implement. Therefore I recommend you have a plan or list of things you want or can do from 9 p.m. on without your electronic devices.
22. Do one day off phone and electronics per week.
In the same spirit, it can prove highly beneficial to have one day off any electronics per week, for instance on Sunday.
This one is on my list, but I haven't literally implemented it as a habit yet. However, when planning time with friends and family during the weekend, I often happen to just leave my phone in a corner and forget about it.
23. Learn something new 15 min.+ per day
I am fond of the idea that we should all see ourselves as life-long learners. I don't about you, but I would love to learn so much more in the course of my life. If possible, I'd even want to study again.
What's on my list?
psychology,
neuroscience,
medicine,
architecture,
computer science…
You get the idea!
And because I am an optimist to the core, I believe I will be able to study some of those over the next decades.
That's why I want to keep my brain fit and trained for learning.
With only 15 minutes every day, I believe I can keep the practice and cultivate my self-confidence when it comes to learning.
My top picks for this: learning a new language or programming.
24. Do at least one thing that you are uncomfortable or that you fear with every day.
Oftentimes, the things you fear doing are PRECISELY the ones you SHOULD be doing. Besides, confronting one fear a day is a great exercise to build up self-trust and confidence.
I've heard this habit idea from several entrepreneurs I respect. And it makes total sense to me.
However, (*full disclosure*) I have not managed to implement this one yet. I am only able to tell how impactful it would be by reminiscing moments when I showed (even small bits of) courage. It felt great and made me leap forward.
Courage could mean anything: from talking to a stranger on the street to publishing an article about a sensitive topic.
Try it out and let me know how you feel.
25. Sing and/or dance for 5 min.+ per day
When we become adults, many of us lose the sense of "play" in our daily routine. However, as Brené Brown explains in her book The Gifts of Imperfection: Let Go of Who You Think You're Supposed to Be and Embrace Who You Are*,  play is essential for us to function to our best potential.
Singing and dancing, for as little as 5 minutes every day, will increase your level of happiness and impact your brain positively.
26. Use the Law of Attraction every day in the morning.
I discovered the Law of Attraction about 2 years ago. No matter if you believe in it for spiritual or scientific reasons, I found it to be very helpful every day.
How do I practice it? I write down an affirmation which I hope will become reality 15 times every morning. I also include a visualisation exercise about how I would like my life to look like 3 years from now in my morning meditation routine.
In times of self-doubt and frustration, this one really keeps my brain focused, motivated and trusting.
If it is not part of your routine yet and you plan on achieving a lot in 2020, I really recommend making this part of your New Year's resolutions.
Save this article for later with Pinterest: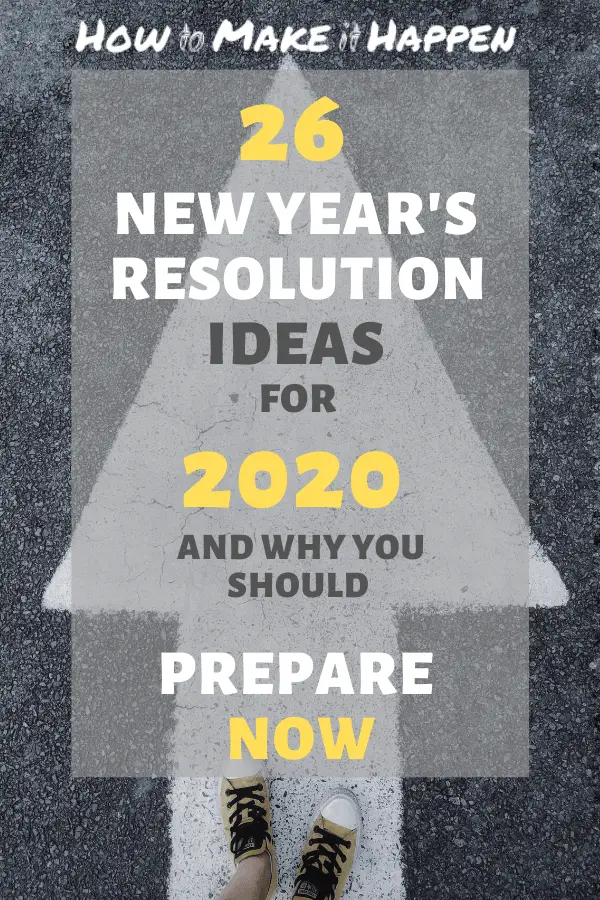 Before you go…
Wow, you stayed with me until the end of this very long post! I'm very grateful for your interest and focus. I hope this article helped you reflect on your past New Year's resolutions and think about which 2 or 3 new healthy habits you would like to put in place in 2020.
If you can, reserve a bit of time between Christmas and New Year's to deepen this introspection exercise and take the best decisions you can for yourself in 2020.
Stay in touch.
Books I mentioned above that gave me great new insights: